HIGH SCHOOL INVITE NIGHT
September 24, 2023 6:00pm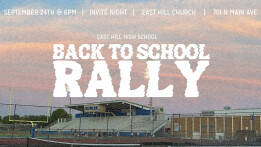 If you are a high schooler in the Gresham Area, we would love to invite you to our Back to School Rally! This fun event is packed with games, food, worship and a message geared to inspire high schoolers to be a light on their campuses!
Sunday, September 24th at 6PM.
701 N. Main Ave. (North parking lot).
If you have any questions, feel free to email Pastor Aman at