HIGH SCHOOL CHRISTMAS LASER TAG PARTY
December 20, 2022 6:00pm
Cost: $25.00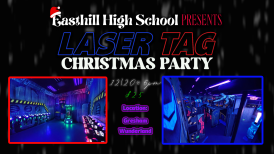 East Hill High School Presents the 2022 Christmas Laser Tag Party

Join us Tuesday, December 20th at 6PM at Wunderland Arcade! This will be a time where High Schoolers can play arcade games, laser tag and more with their closest friends as they celebrate the last day of the semester!

Food and beverages will be provided.

**Waivers requires to be signed.