Women's Event
October 1, 2022 9:00am
Room: Main Auditorium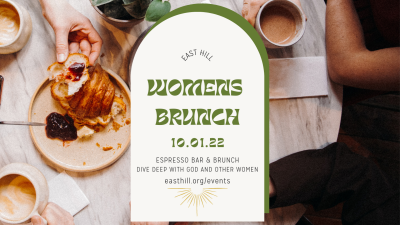 We're sorry, registration is now closed.
You are invited to join us Saturday Morning Oct 1st from 9 AM - 12 PM to gather with us as we share a meal, learn together, and dive deeper into a relationship with God and other women.

Doors open at 8 AM for Coffee & Conversation.
(Were hiring a mobile espresso bar!!)

There will be childcare available but we will only have the capacity for 30 children between the ages of 3 - 10 years old. *All children must be fully potty trained* We anticipate this will fill up quickly so please register your child as soon as possible. In order to maintain safe child-to-leader ratios, we cannot exceed 30 children and may not be able to accept your child if you do not register in time.

Donations:
We will be collecting donations to help support the Gresham Pregnancy Resource Center. They had a fire recently and lost a lot of their supplies. If you are able, please feel free to bring a pack of diapers (size 5 and below) or a pack of wipes to help support their efforts to resource women in our community.
You will also see an option on the registration to sponsor a woman to be able to attend the event or cover the cost of her child care. We understand that costs for events can be a hindrance and would like to provide the opportunity for you to donate however much you feel led to give so that another woman can attend or receive childcare.
Have a question or would like to volunteer for this event? Please email us at