HIGH SCHOOL PARENT NIGHT
October 13, 2022 7:00pm
Room: A-16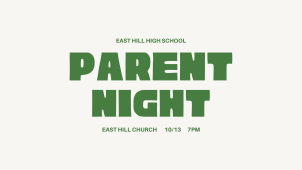 On Thursday, October 13th, the East Hill High School Ministry will host a Parent Night! This night is design for parents to connect with Pastor Aman, the High School Leadership Team, and most importantly, other parents! We will take some time to discuss upcoming events, changes in our service and small group structure, and more.

Refreshments will be provided.

Please RSVP through this form!